In 2016 nearly 25% of Americans ordered groceries online at least once. Over the next 2 years, that number has doubled and the total value of online sales of food and beverages is expected to exceed $25 billion for the first time. This is just a small fraction of the $1 trillion market and the growth potential for online groceries in the next years is enormous. Below we discuss top trends in this industry.
Changing the habit
Online groceries exist already for several years. A lot of customers still choose to visit the brick & mortar store over the convenience of home delivery. There are several reasons for that. Physical locations offer a different experience from their online counterparts. Besides instant pickup, the joys of impulse buying and getting out of the house, other reasons to shop locally are the ability to touch and see the product or discounted items with a near expiry date. Because of that, some people consider the online experience to be inferior and there is a great opportunity for whoever manages to grant all these experiences through an eCommerce platform.
Already today Walmart offers pick-up options in their physicals locations of the online orders. This not only allows customers to grab the groceries on their way home but also to check out any in-store only opportunities and is a convenient upselling opportunity.
Perhaps, in the coming years, we will experience a seamless merge of both physical and online shopping experiences.
The blend of virtual and real world
Since the mid-90s eCommerce was about encouraging people to buy products online, to build consumer trust. The second decade of the new Millenium is about convenience and reliability – easier browsing and checkout, new payment methods, more convenient and faster delivery.
The shopping experience of tomorrow is already here and people are getting more and more used to it. We create shopping lists with Siri or Alexa to display them on a smart shopping cart inside the brick & mortar store. While rolling among the isles the cart shows us the fastest path through the supermarket to pick our items and suggest detours to grab extra products. We leverage the convenience of shorter lines with self-checkout stands or even scan items with our mobile device while we shop. Amazon Go has pushed that experience even further and uses AI and image recognition to figure out what items we put into our basket and charges us when we leave the store, greatly streamlining the checkout experience (or rather removing it at all!).
I am eager to see how new solutions will affect shopping for groceries in the coming years.
Top features of an online market
Convenience and removing buying friction is the name of the eCommerce game.
In a use case of periodic purchase, when people keep coming back to buy multiple different items, as they do when shopping for groceries, for example, the Add to Bag button and the quantity field needs to be visible on the Products Listing Page (PLP), not only on the Product Detail Page (PDP). It would be very tiresome for the customer to access every PDP if they already know what they want.
Here are two examples of British online marketplaces doing it right: heartier.com and farmdrop.com. They both use Spree Commerce for their online platform (read: Farmdrop's success story).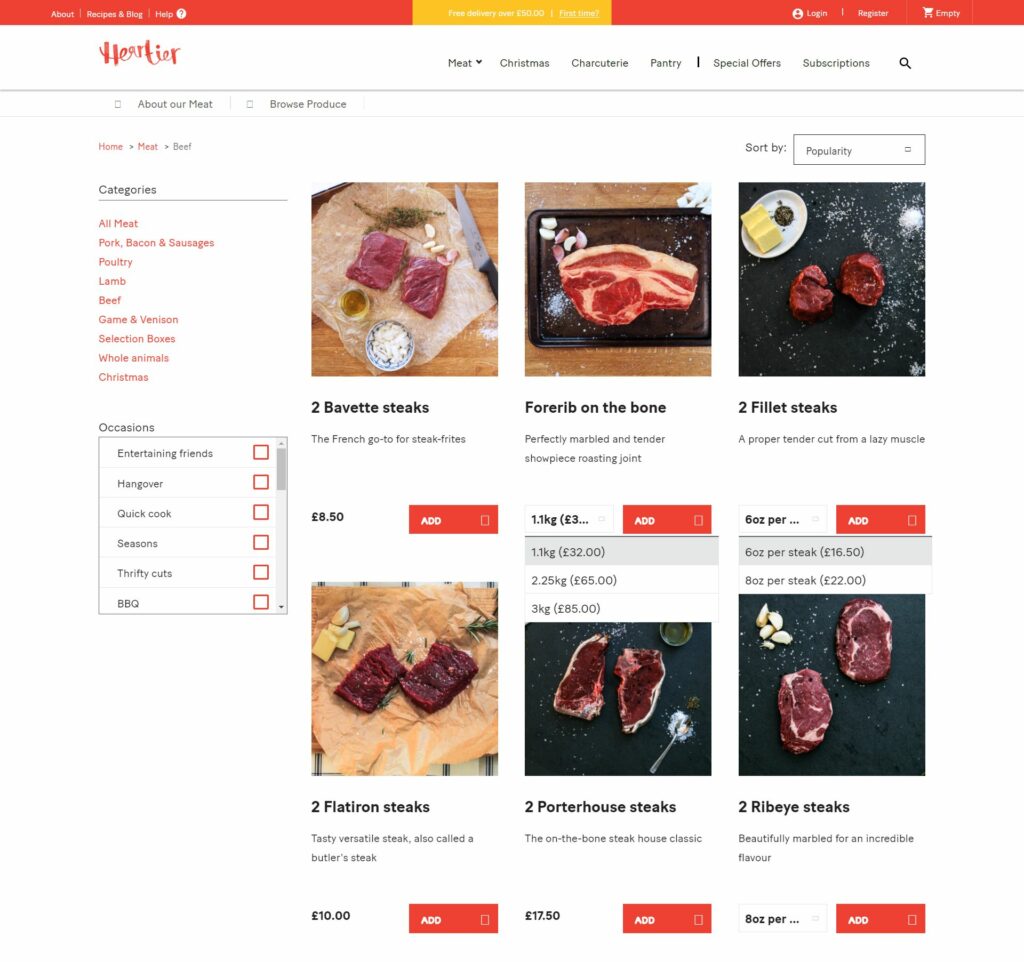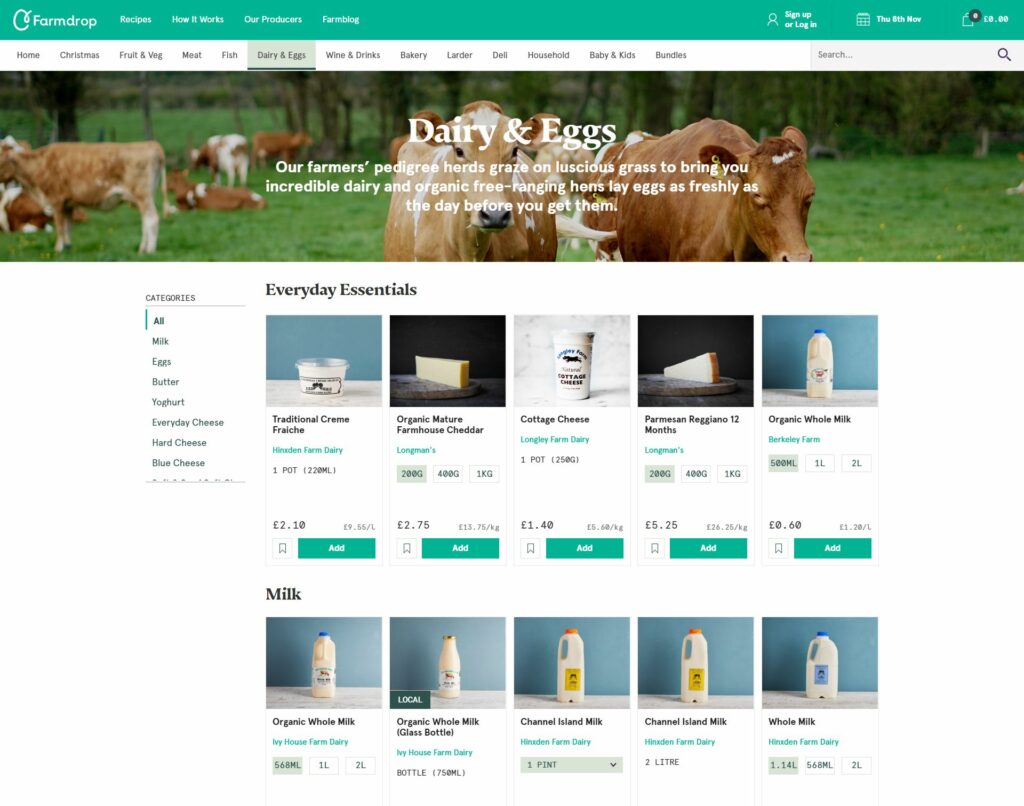 For single item purchases, one-click buying is the thing – allowing customers to purchase the item with a single click by re-using the payment and shipment details from their previous orders.
Another functionality, which conveniences frequent shoppers is a personalized list of most purchased and favorite products. A similar approach would be to allow users to repeat a previous order and alternatively edit it before confirming.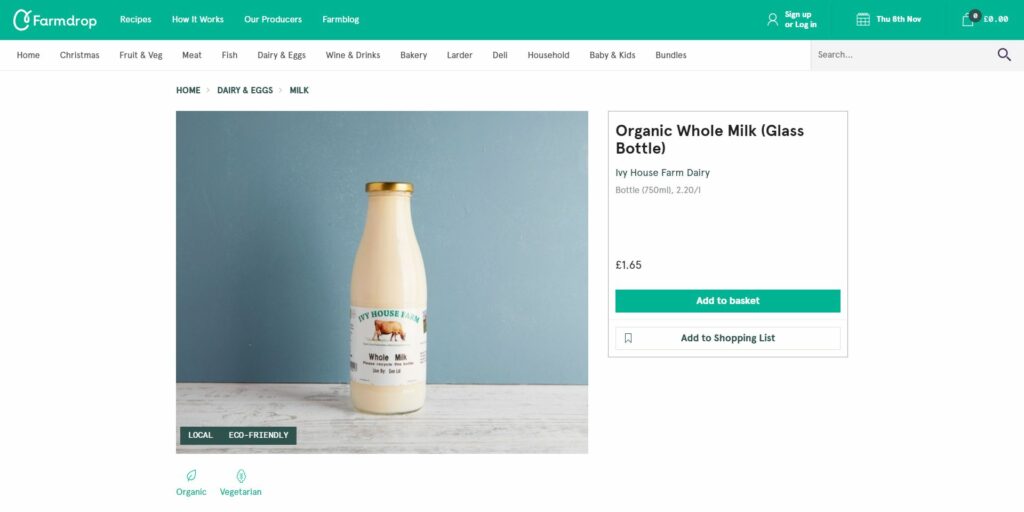 If repeat business is the best business, then automated repeat business is the Holy Grail of eCommerce. That brings us to the subscription business model.
Subscriptions
Although the subscription business model has been pioneered by newspapers and magazines already in the previous millennia, long before the widespread of the internet, it is still not very popular in the grocery industry. The reason is quite simple and boils down to figuring out how often should we receive particular products. While one week we might use a lot of rice, we might not be eating it again for a few months. And we certainly wouldn't want to stockpile boxes of rice for the next several weeks.
To solve this issue we could propose a subscription program where you receive the required ingredients along with recipes, which allows you to enjoy the cooking without the hassle of figuring out the proportions and doing the shopping.
A different and a little more manageable case would seem to be with the non-perishable goods which we use on a regular basis e.g.: toilet paper, washing powder or dish soap. Even though we usually run out of such a product over the same period of time, it could take a month for dish soap and 4 months for the washing powder.
A comprehensive subscription program for groceries differs greatly from the monthly magazine. We require different goods at different frequencies. There are already services where we can subscribe to individual products, however, we are yet to see the grocery industry fully taking advantage of the subscription business model.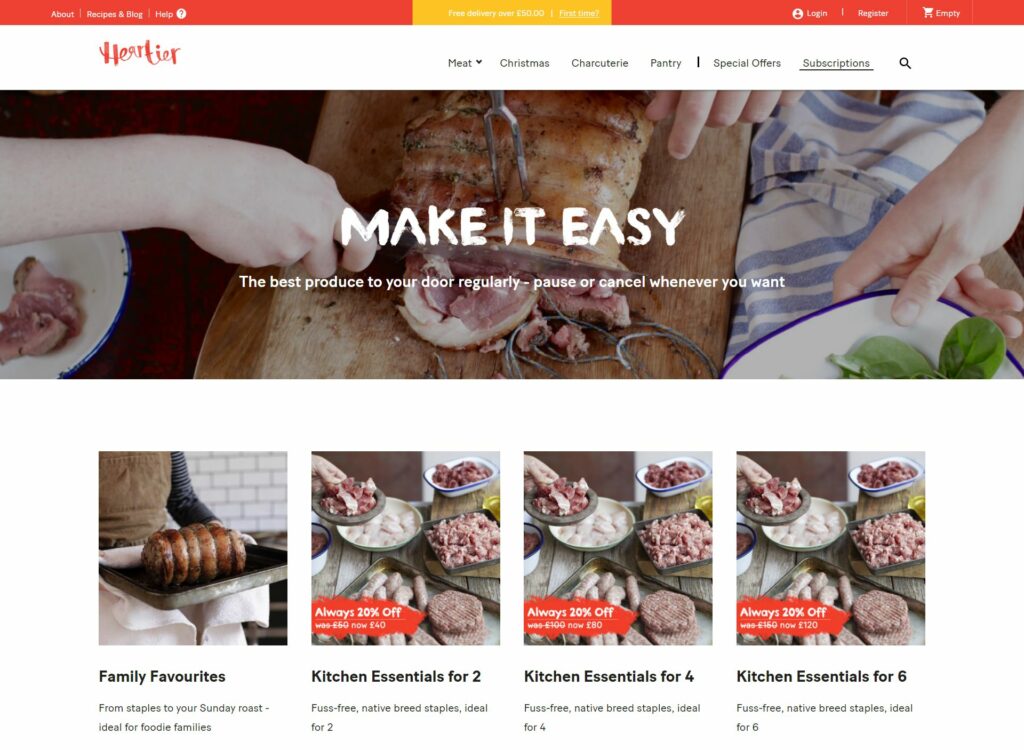 The future: IoT
On average we do groceries 3 times a week. We go to a different store, which happens to be on the way and purchase products only when we are close to or already did run out of them.
We already start surrounding ourselves with internet enabled devices. In the near future, an intelligent fridge will automatically add milk to the shopping list when it runs out and it will be included in our next delivery (unless we still choose to shop in person).
Although we are still a bit away from such a perfect scenario the pieces of the puzzle are already here – wireless connectivity, RFID tags. It is a great opportunity for those willing to boldly go, where no one has gone before.