St.Louis based startup Greetabl.com was transformed into a scalable and automated one-stop-shop for creatively-curated gifts and greetings that are personalized with Instagram photos, packaged and sent in just a few clicks. This enabled the startup to scale, fundraise and compete for larger market share as well as bigger ROI.
"We threw a lot at the Spark team and wanted everything 'yesterday'. They did an outstanding job executing our vision. We have big plans, and a lot of new things to build, and we look forward to working with Spark for years to come." – said Joseph Fischer, Greetabl founder & CEO.
The project is a combined effort of St.Louis based digital brand and consulting firm B/C Designers who crafted the new Greetabl concept and the look, feel and UX of the platform, along with Spark Solutions Ruby on Rails Developers who jointly overhauled their digital platform with a complex ecommerce & fulfillment solution based on Spree Commerce 3.0.
INTRODUCTION
B/C approached the Greetabl project with a strategic vision, rooted in the business objectives discussed with the founding team. "We're a design strategy firm. We help businesses grow through digital strategy by looking at their business goals, and then creating a design around them, whether it is a new brand, website, or custom application. We started working with Greetabl, discussing their target demographic and brand platform, developing design strategy." – said Reshma Chattaram Chamberlin B/C Designers Founder.
THE CHALLENGE
B/C and Greetabl worked together to develop a complete online gifting solution where the user, B/C coined "the Giver" could pick from a beautiful selection of boxes, add a gift from a curated collection of gifts, customize the package with a message and photos that would then be shipped to the receiver's door.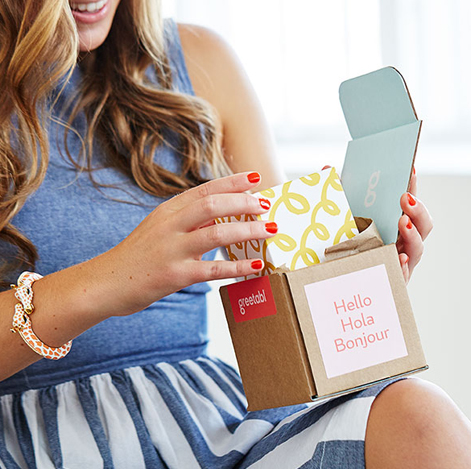 The user could also send multiple Greetabls to different addresses in one quick and easy order! This new model required a complex customization of Spree Commerce to make this userflow possible.
THE SEARCH FOR A REMOTE SOFTWARE DEVELOPMENT TEAM
B/C Designers sought a qualified technology partner to support the functional development of a Spree Commerce website.
"We were looking for an experienced Ruby on Rails team to support the development of several custom solutions." – explained said Reshma Chattaram.
Spark Solutions was one of several potential vendors to be shortlisted by the client, and they were approached and selected as the solution partner based on their demonstrated technical expertise and competitive pricing.
Once commissioned, Spark Solutions began to collaborate closely with B/C on the development of their Spree Commerce website, which required custom Ruby on Rails development, user interface / user experience (UI/UX) design (created by B/C), systems integration and configuration, and ongoing support.
Once the business model refinements, user experience and visual design were completed by B/C Designers; it was time to bring it to life with technology.
SHOWCASE
Greetabl.com provides great user experience on all devices with a fluid mobile-ready layout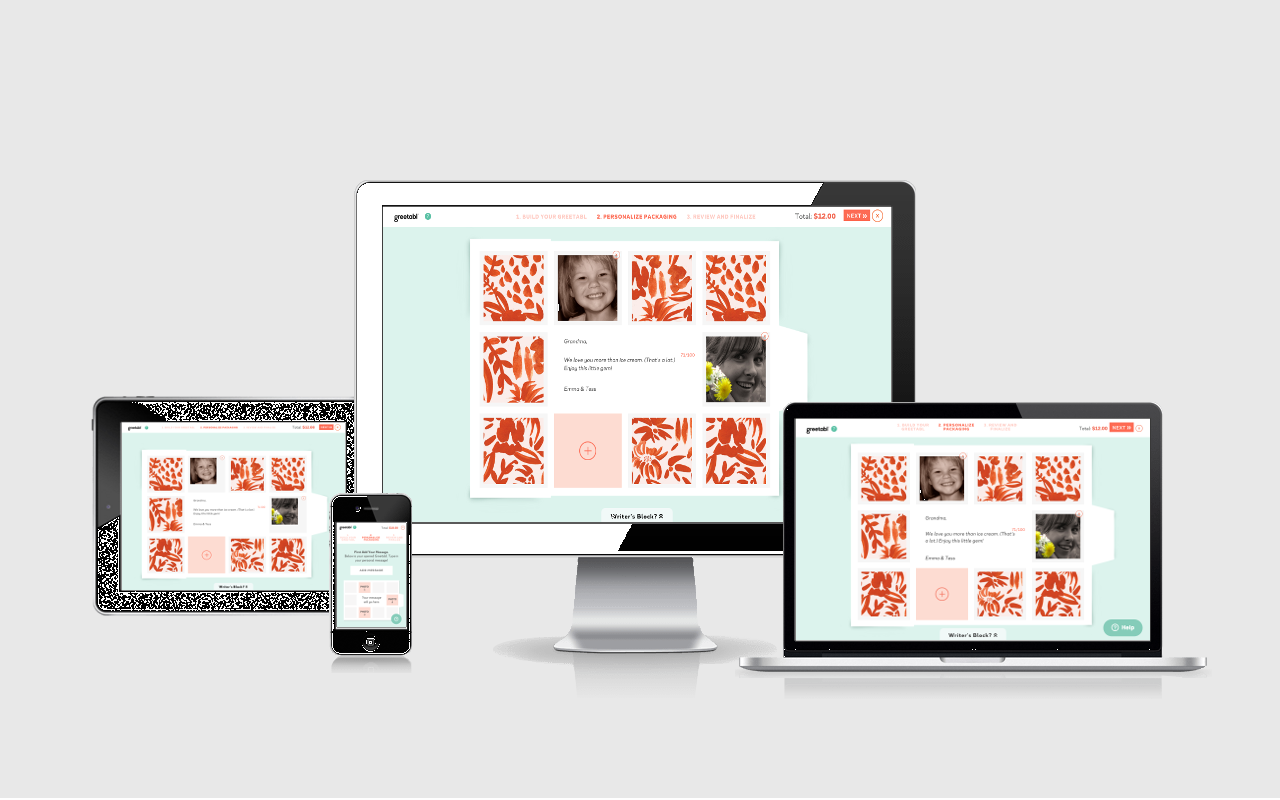 As a user I may start with Holidays (seasonal products) page and choose my Greetabl box + gift combination which will auto-populate the single-page-app product builder for pictures upload and message personalization.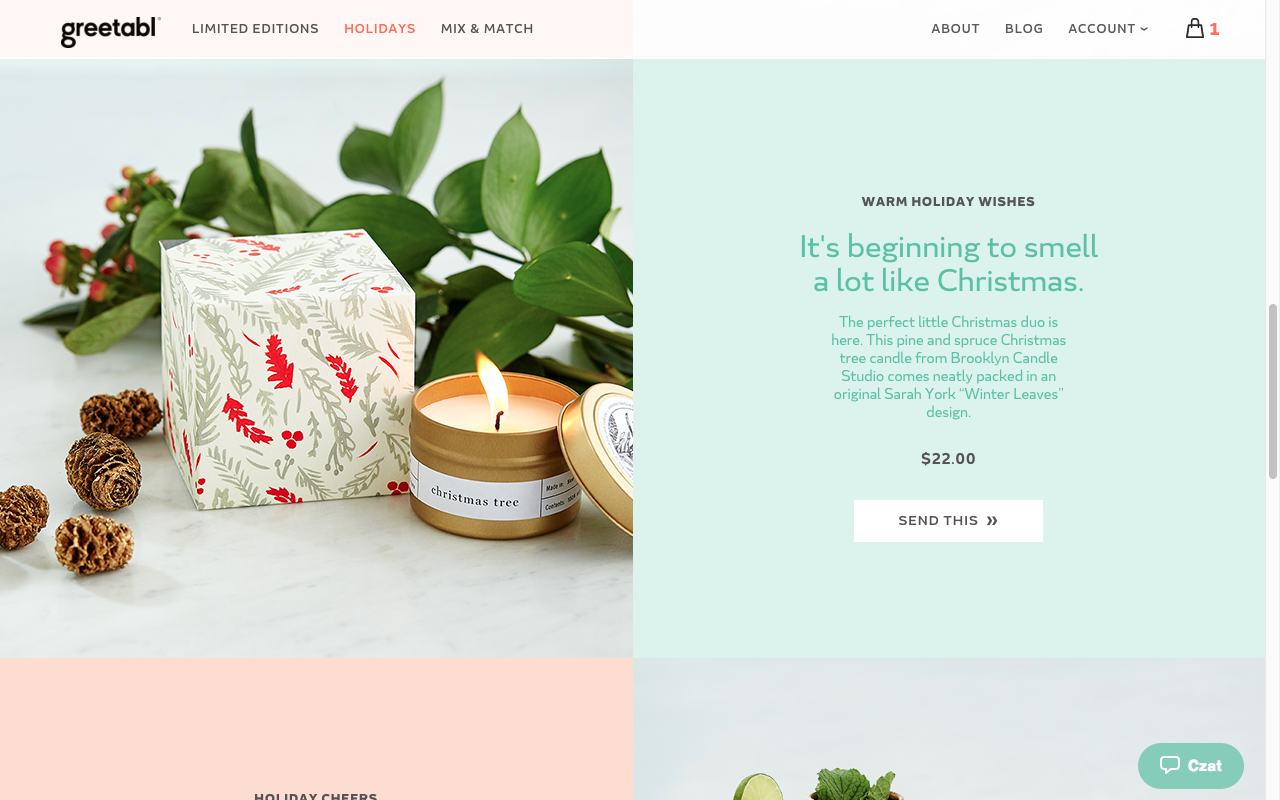 Or I may start with Mix & Match page and pick a custom box for my Greetabl in step 1 out of 2.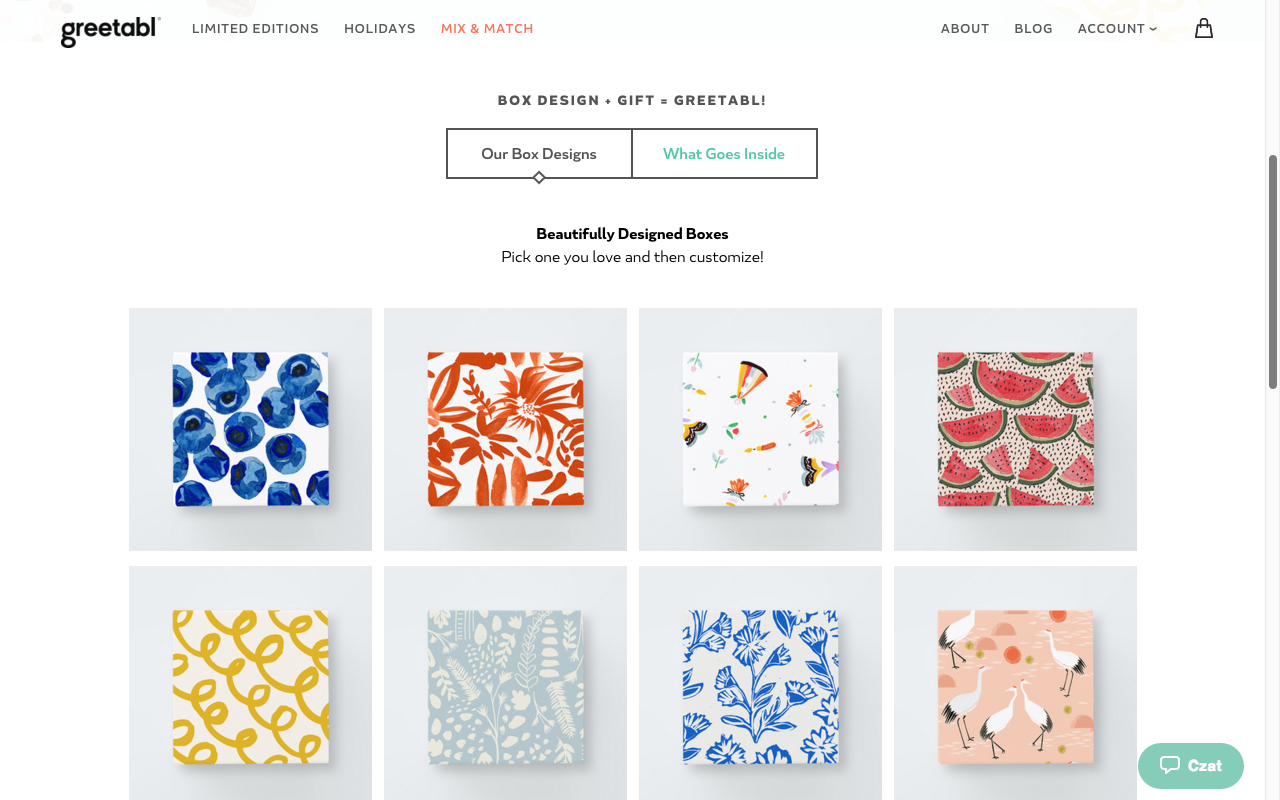 Then I may pick the gift of my choice which goes inside the Greetabl box in step 2 out of 2.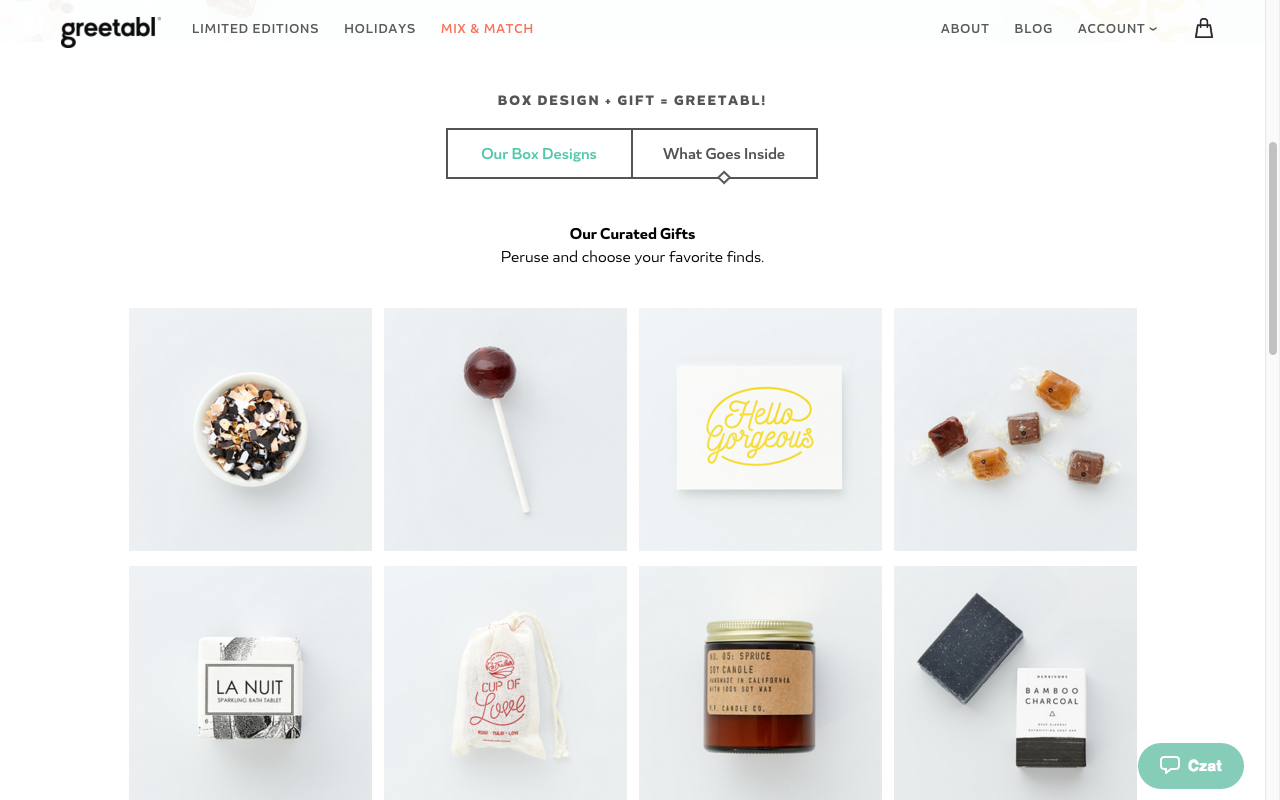 Once I have chosen the box and the gift I may proceed to the Greetabl Builder single-page-app developed in React.js for pictures upload and sentiment message personalization.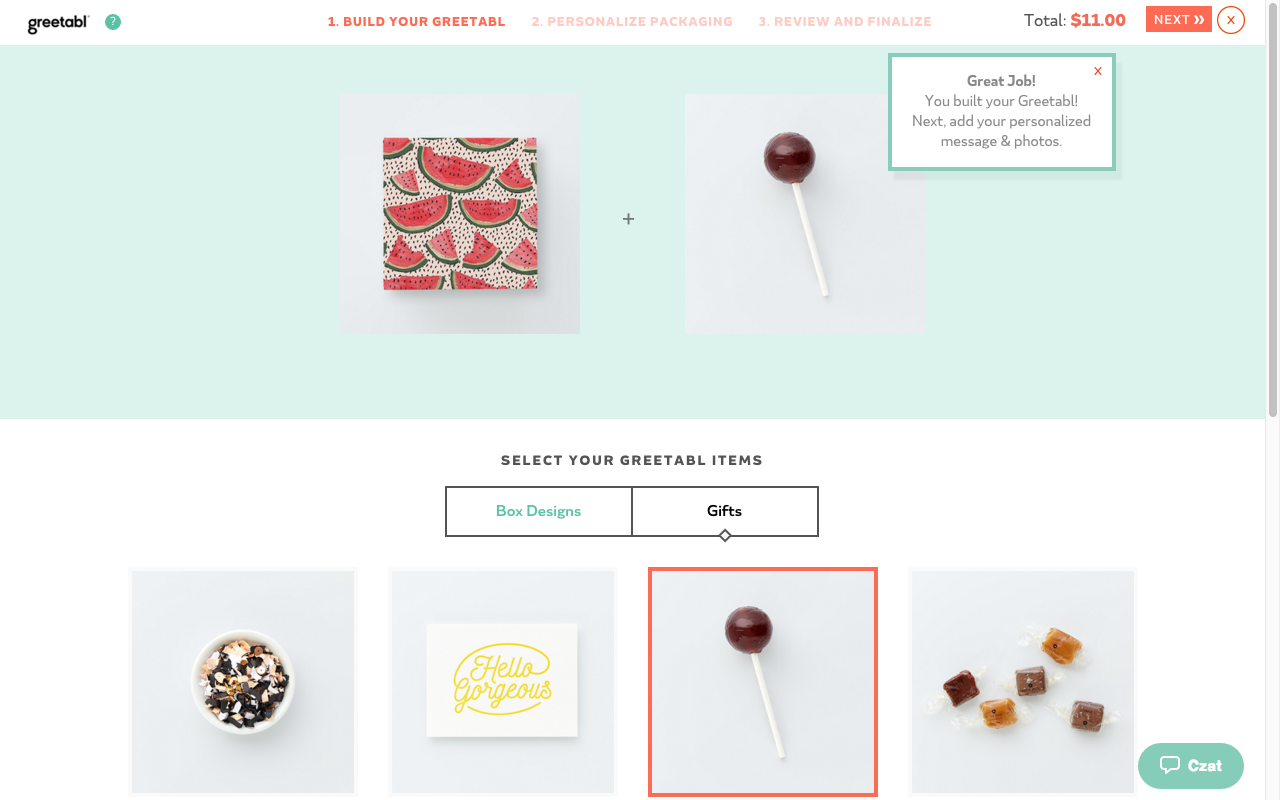 In the Greetabl Builder I may customize the box with Instagram or local drive photos as well as From, To and Sentiment text.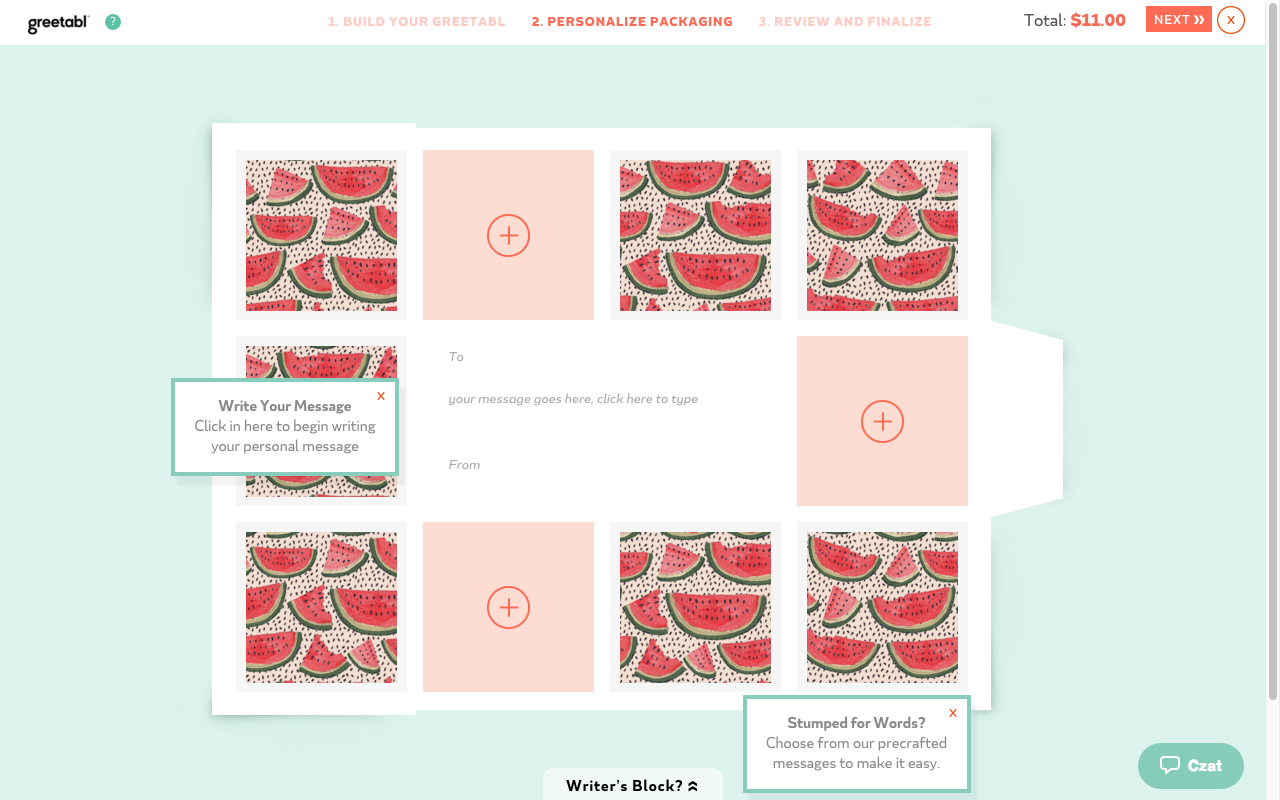 In the cart I may checkout or build another Greetabl. After checkout my unique Greetabls will be produced and shipped to all the important people.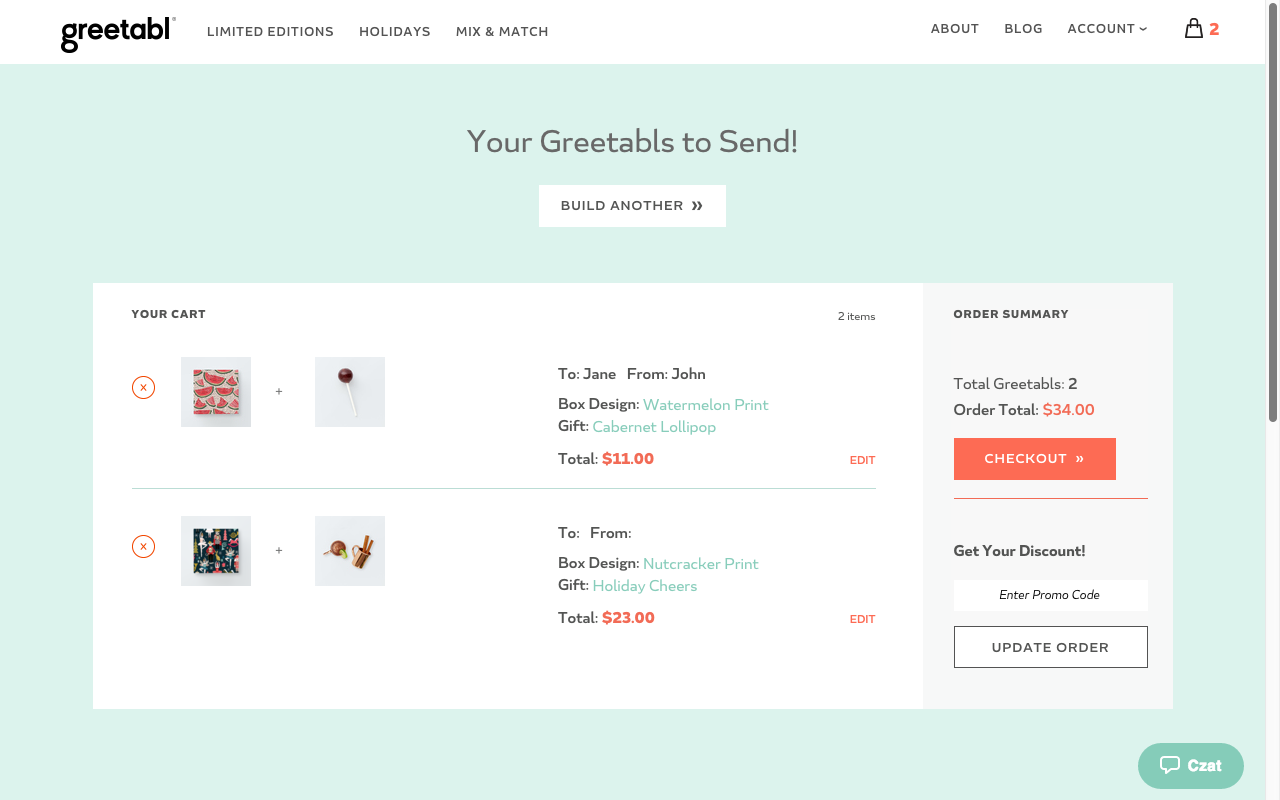 THE PROCESS & THE SOLUTION
Analysis & system architecture design
Client brief containing high-level system requirements and User Story list was converted into system architecture design that could meet all the client requirements.
"We decided to combine a single page React.js application as the product builder with a custom Spree implementation handling the checkout process. Outsourced order fulfilment performed by RR Donnelley was handled with a custom Spree extension using their API." – explains Damian Legawiec, CEO & CTO of Spark Solutions.
Coding & testing iterative process
As Spark Solutions works in an agile way the project was conducted in weekly iterations. It took 22 weeks to launch an MVP integrated with the external outsourced print on demand and shipping center. Each iteration consisted of several micro-cycles oriented around particular User Stories (developer tasks) managed using Pivotal Tracker project management software – as shown on the graph below.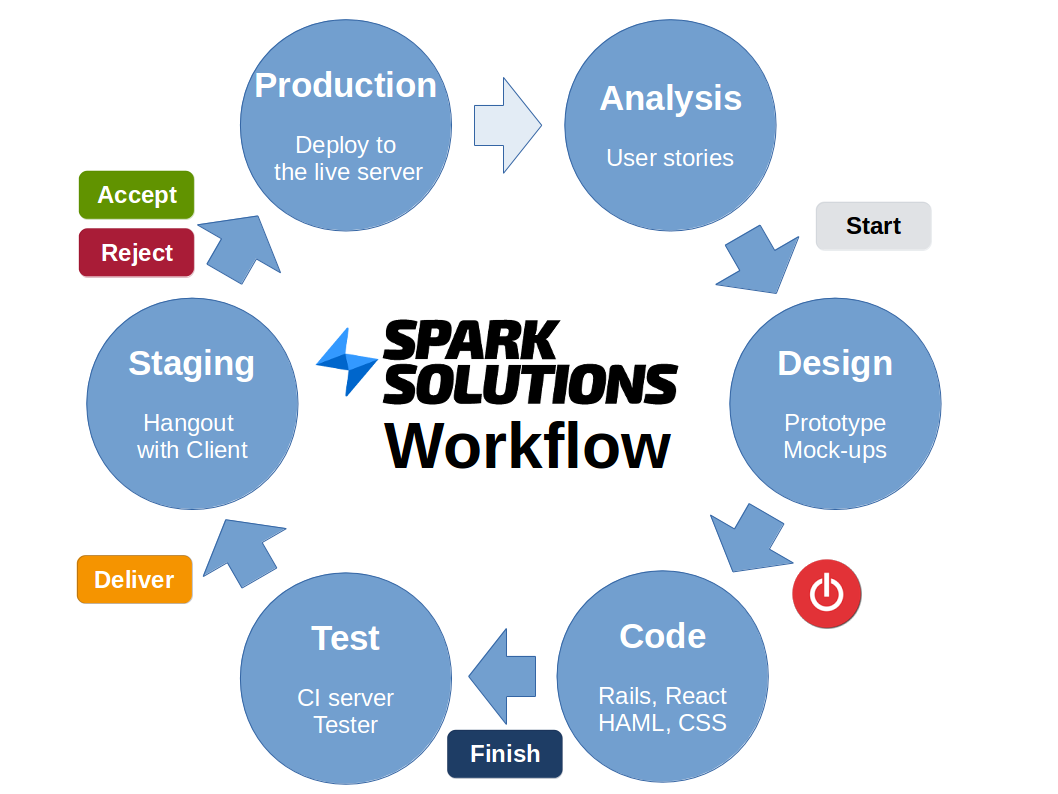 Each User Story development and testing micro-cycle was timed using Toggl.com for billing purposes. Each week's workload of User Stories was screen-shared with the client during a weekly Google Hangout session. Each User Story was either Accepted or Rejected with some feedback for the developer. Only after a green light from a client each User Story was pushed from staging to production infrastructure.
The whole development process is a repetitive cycle of coders and testers working together with a client with the help of Spark Solutions project manager (PM).
"From day 1 you as a client have access to the staging environment with a working copy of the project. You have QA staff (testers) working with developers on a daily basis. As a Product Owner you can add user stories, bugs, accept or reject features anytime. Or you can have our PM do it for you." – said Damian Legawiec.
"We're doing Test-Driven Development (TDD) with tools like RSpec, Capybara, Factory Girl and many more. After every push tests are run on our continuous integration & deployment server. Besides that we like to do GitFlow approach with pull requests on Github – every pull request must be code reviewed by another developer before merging to the master branch. We're also doing static code analysis with CodeClimate to keep the code quality on a high level. Most of our projects reach ~90% level of test coverage."  – explains Spark Solutions CTO.
Responsive Website Design and its implementation
Mobile-ready layouts design, implementation and testing was a process which took several weeks and was conducted by B/Designers team with cooperation with Spark Solutions front-end developers.
Each page was designed for large desktop screen, laptop, tablet and mobile phone (both screen orientations – horizontal and vertical) for a standard and Retina-ready resolution. Then the PSD layouts were sliced, coded and tested on various devices. But that was not the end of the layout implementation process.
"In order to develop the custom product builder we had to implement and integrate several technologies like React JS, Flux, React Router and Instagram API. We had to overcome challenges like cropping images (portrait/horizontal) on desktop, tablet and mobile. Using uploaded photos, selected design and user supplied message we are generating PDFs that are sent automatically and printed in the RR Donnelley fulfillment center via their API" – explains front-end coding intricacies Spark Solutions CTO.
Production deployment & configuration
Deployment to production environment was followed by basic SEO and performance optimization which are critical for ecommerce success.
End-product solution
Greetabl.com features:
personalized product builder and custom checkout process

single page React.js application as a responsive product builder ( desktop / tablet / mobile )
custom checkout process adapted to Greetabl workflow

great user experience

mobile-ready clean layout and greatly improved user experience
product sections pre-defining product builder elements for the user

Limited Editions
Holiday (seasonal products)

outsourced order fulfilment and shipping handled with a custom Spree extension using subcontractor's API with order status feedback and shipment tracking
admin panel enabling

products management
promotion and promo messages management
CMS for content pages
general website configuration

multiple fonts, emojis (even on desktop!) & special characters: Chinese, Spanish
Digital Content Library enabling the users to browse and choose from a variety of pics provided by the admin.
wholesale
Greetabl Insider – a VIP Program, and get some amazing benefits including free standard shipping on all of your future boxes of happiness.
Gift Cards – integration with Gyft which allows clients to purchase gift cards from a number of retailers, which are then printed on the same cutout that Greetabls are, so this process is handled by Greetabl from start to end.
Rewards – credits can be earned with every eligible self-service order on greetabl.com.
eCommerce multi unit ordering – users can easily duplicate their Greetabl builds and edit them directly in cart.
Post-launch monitoring & optimization
Website is being monitored post-launch with tools such as NewRelic for performance monitoring and Rollbar for automatic error reporting. All arising issues and requirements are being addressed in an agile methodology as described above.
Further development
During website development many new ideas emerged and are being developed like more in-depth sales automation and marketing tracking, new feature additions and expansion of the current platform.
TRANSPARENCY, COMMUNICATIONS & HANDS ON PROJECT MANAGEMENT
"The project took almost 6 months to MVP launch. Reshma, B/C Designers founder,  coordinated efforts of 4 different teams and 10 to 15 people cooperating in a variety of roles. She's invested massive amounts of time and energy into quality assurance of the development process as well as external order fulfillment center integration. It was a pleasure to watch her work and a PM learning experience." – explained Mike Faber, COO of Spark Solutions.
Reshma Chattaram Chamberlin appreciates Spark Solutions for their meticulous approach to Agile development and for their uncompromising responsiveness. She maintains an ongoing relationship with Spark Solutions and recommends them highly.
"I am very pleased with the work completed by Spark Solutions. They are my fully integrated remote dev team and remain instrumental to the successful development customer solutions, especially when they require a deep working knowledge of Rails and Spree Commerce." – says Reshma Chattaram Chamberlin.
"I would say their disposition and their ability to try to get stuff done in the best way possible is unique. Spark Solutions seems to have the attitude of wanting to make it right together. I think that's hard to find in developers, especially offshore teams." – said B/C Designers Founder.
Transparent and ongoing communications was maintained throughout the 5+ month project:
Slack group chat was used for

real-time team communications
tracking project progress thanks to integrations with Pivotal Tracker, GitHub, Circle CI and Heroku

Skype and Google Hangouts were used for weekly or ad hoc video calls
Trello was used for quality assurance and tracking testing progress
Toggl was used for time tracking and billing transparency
"Spark Solutions are good about sharing their thoughts and working through things, as opposed to just following instructions because we don't really operate that way. We have a main account manager, a main developer, and then we're also in correspondence with their other developers. We don't talk to them directly, but I could if I wanted to. I prefer to communicate with our project manager and our main developer." – explained Reshma Chattaram Chamberlin.
"I am the pickiest person alive. I can see one wrong pixel a mile away, and I want to know how everything is done. What I love about Spark is their responsiveness and their internal organization. We used Pivotal Tracker for project management and we were able to walk through the whole process, from creating a concept to the actual development. All the milestones we reached got checked off on a weekly call. I like their complete transparency and organization." – said B/C Designers founder.
"No matter which developers I'm working with, being meticulous and detailed is crucial. I don't expect someone else to carry my load, and I make sure I'm constantly communicating and checking in. Be really organized on your end because if you're not organized, no matter how awesome a developer is, it's just not going to come together." – advises B/C Designers founder.
TECH STACK & INTEGRATIONS
Technology stack

Ruby on Rails 4 with HTTP app caching & memcached for shorter page load times
Spree Commerce 3.0 – with a custom checkout process
Twitter Bootstrap 3.3 – for mobile-ready easy-to-modify layout
ReactJS frontend with React-Bootstrap, React Router and Flux architecture pattern
Haml, Sass, CoffeeScript – front-end components
PostgreSQL, Redis – back-end engine
Heroku – cloud hosting optimized for increasing traffic loads with automatic scaling up and down

Integrations

RR Donnelley: Print, Digital and Supply Chain Solutions – API integration with an external order fulfillment center
Amazon S3 – for all file assets storage and trusted, scalable, secure backups
Amazon CloudFront content delivery network – for faster page load all over US and the rest of the globe
Cloudflare – for a significant improvement in performance and a decrease in spam and other attacks (DDoS)
Instagram API for sign in / sign up and fetching photos
Mailchimp for building a mailing list and customer loyalty for repeat business
Sendgrid for e-mails sent by the application
Segment for easy plugging in other services like Google Remarketing, Facebook pixels, A/B optimization tools and many more
CONCLUSIONS
Greetabl.com business was automated and streamlined with the right technology, user experience, brand platform and dev team
This enabled the startup to scale, fundraise and compete for larger market share as well as bigger ROI
New website was beta-tested and optimized for a few more weeks right on time for holiday season
With each weekly iteration of the development process – both pre- and post-launch – new requirements arise for UX or business improvement
We are your Ruby on Rails & Spree Commerce developers. We offer eCommerce development, integration, customization, migration but also high quality Ruby on Rails application & website development services for heavy loads and demanding users. Spark Solutions founders are both experienced web entrepreneurs. We often assist our clients in a CTO role. Contact us at [email protected].